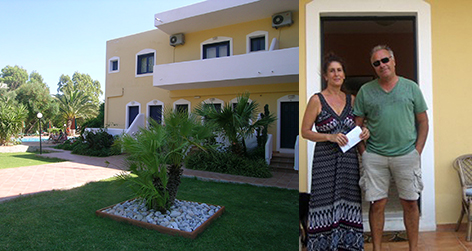 Your Hosts Siffi and Anna Delakis
Villas Europa, Candia and Marise are located on the sandy beach of Paleochora South West Crete, Greece. All the Villas are directly on the Libyan Sea. The town was originally a fishing village surrounded by olive groves. Both fishing and olive production are still a large part of the local community life. The Europa gardens are surrounded by dozens of olive trees which are harvested annually.
The Villa Marise has its own bar which has entertained world travelers since the early 60's. It now provides a buffet breakfast, all day snacks and memorable sunsets with any beverage you desire. Perfect for a meeting place, Romance, or just to have fun.
The Villa Europa and Candia have views of the swimming pool between their gardens. We recommend the sea for swimmers although the pool is perfect for anxious mothers and windy days when the sand is tossed about.
The owners, Siffi and Anna Delakis welcome you to their home with open arms and hearts. The Villas are built around the family home which has been standing there for the past 3 generations.
Accommodation varies and caters for single travelers as well as large families or groups. Most have cooking facilities and sea views. Wireless connection is provided throughout the villas. There is also the opportunity to experience alternative lifestyle therapies. From Yoga in the garden to psychokineaseology, massage, singing bowls and naturopathy. We occasionally hold art and dance classes. The Villas are ideally situated on the outskirts of the Village. It is only a 2 minute walk to the shops and restaurants.
If you feel you need to take in the country side there are ferry boat rides and buses offering organized trips to spectacular gorges and incredible beaches, as well as archeological sites. Or you can hire bikes, cars, jeeps, motor bikes locally and investigate them all on your own. Whatever you are searching for in a holiday can be found here in Paleochora. We are sure you will take something special back with you and hope you will return as many do year after year.